A Tale of Two Settings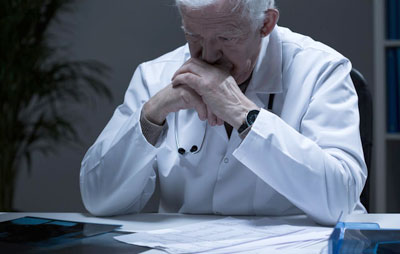 It was the best of times, it was the worst of times,
It was the age of wisdom, it was the age of foolishness...
In the story of your medical career, today you are in the prime of your practice: leading, guiding and healing. But what happens if one day, that story changes? What happens if you're named in a medical malpractice lawsuit?
Medical professionals who have been named in a suit often define their career in two parts: before the suit and after the suit. At MedPro Group, we understand, and we've been there: we've walked alongside healthcare providers as they've endured one of the most fearful, frustrating and stressful times in their lives.
The stark reality is that 61% of physicians will be sued at some point in their career. We've discovered a report that quantifies the emotional, financial and professional costs that result from being named in a lawsuit, and we wanted to share this information with you. This report explores the top reasons why doctors get sued. The information featured in the report is based on the results of a survey of your peers. It explores dozens of areas they felt were affected by the suit that they endured – practice setting, documentation procedures, relationship to patients and more.
We hope you find this information helpful.
http://www.medscape.com/features/slideshow/public/malpractice-report-2015
A Tale of Two Cities (1859), Charles Dickens
Survey data 2010 American Medical Association (AMA)