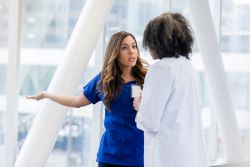 Laura M. Cascella, MA, CPHRM
In any workplace, disruptive and negative behaviors can chip away at workers' confidence, erode trust in leadership, and generally sour the working environment. Healthcare is no exception, and disruptive behavior among healthcare providers and staff is a well-documented problem in various practice settings.
The COVID-19 pandemic has only exacerbated this issue, as a 2022 Medscape physician survey shows. In 2022, 41 percent of survey respondents said they had witnessed colleagues behaving inappropriately in the workplace, compared to 35 percent in 2021. Stress and hardship were noted as triggers for the uptick in poor behavior.1
The damage from disruptive behavior takes many forms, but one of the most damaging consequences is its negative impact on employee morale and job turnover. An article in the Journal of Nursing Management notes that "Disruptive behaviour within the health care setting is concomitant with decreased productivity, absenteeism, turnover, and decreased patient safety."2
Staff members who are on the receiving end of disruptive behavior, such as verbal abuse, might feel anxious, unappreciated, depressed, and inadequate. Further, disruptive behavior adversely affects focus and concentration, collaboration, communication, and information transfer — all of which can lead to substandard patient care. Consider how the following examples of disruptive behavior might create a corrosive environment and directly and indirectly affect patient care:
An office manager with an abrupt and blunt communication style berates a medical assistant for mislabeling a lab specimen. The medical assistant is so flustered that she subsequently administers an incorrect injection to a patient.
A dentist becomes angry that his operatory is not set up correctly. He yells a series of expletives and throws a tray of instruments against the wall. Patients in close proximity hear the outburst and witness staff members' anxious responses.
A physician in a group practice has been frequently absent and late for appointments, necessitating rearrangement of the schedule. When at the office, the physician is irritable, distracted, and short with staff members. A review of her charts shows many discrepancies and inadequate documentation, leaving questions about whether she's providing quality care to her patients.
A nurse supervisor gives nicknames to all of the nurses whom she manages. Although none of the nicknames are outright derogatory, some can be construed as offensive. When some of the nurses express dislike of the nicknames, the nurse supervisor accuses them of being overly sensitive and subsequently dismisses their concerns.
A physician who supervises several advanced practice providers (APPs) feels that one of the APPs asks too many questions and takes up too much of his time. In response, he starts avoiding the provider. He doesn't answer the APP's phone calls or provide timely responses to questions.
Identifying and Confronting Disruptive Behavior
Not all disruptive behavior is as obvious as some of the previous examples, such as yelling at an employee or throwing instruments. Disruptive behavior can be overt or covert, and the aforementioned article in the Journal of Nursing Management also categorizes disruptive behavior as lateral aggression or vertical aggression. Lateral aggression refers to acts that occur between colleagues or peers, while vertical aggression refers to acts that occur between colleagues of varying power levels.3
Overt disruptive behaviors — such as physical intimidation, screaming, or fits of rage — are generally easy to recognize. Covert behaviors are not always as obvious; however, they can be just as problematic. Examples of covert behaviors include ignoring phone calls, refusing to communicate with other members of the team, or intentionally disregarding policies and procedures.
Confronting disruptive behavior can be a major challenge for healthcare leaders and staff members for various reasons, such as:
Fear of confrontation or general reluctance to confront
Fear of retaliation and retribution
Lack of confidential reporting systems
Apathy or acceptance of the disruptive behavior
Costs associated with investigating, monitoring, and terminating
Although confronting disruptive behavior might be difficult, allowing it to proliferate can have significant human and financial consequences. Thus, healthcare organizations of all sizes should take steps to establish and enforce a code of conduct that lays the foundation for acceptable and unacceptable behaviors.
Establishing a Code of Conduct
Developing, implementing, and enforcing a code of conduct is the quintessential strategy for creating a culture intolerant of disruptive behavior. A code of conduct should embody a philosophy of respect and dignity, but it also should be specific in identifying disruptive and inappropriate behavior necessitating action.
Essential elements of a code of conduct include:
A clear mission to ensure a professional care setting and workplace
A listing of the types of behavior that will trigger action
A process for reporting and documenting complaints of disruptive and inappropriate behavior, including an option for anonymous reporting
Identification of the person in the organization who will receive the documentation
A process by which more than one individual, if possible, will review documentation of incidents
A communication process to (a) notify the person with the alleged disruptive behavior of the complaint, and (b) allow the individual to respond to or dispute the allegation
A tiered corrective action and evaluation process commensurate with the disruptive behavior
A process to monitor compliance with the code of conduct
Standards for confidentiality throughout the process
Peer review policies, which also should be triggered for evaluation of disruptive behavior complaints
Both clinical and administrative staff at an organization need to be aware of the code of conduct and its provisions. Information about the code of conduct should be incorporated into employment arrangements, partnership agreements, and business contracts. Education about professionalism and the organization's standards should occur during orientation and on a consistent basis thereafter. Additionally, the organization should periodically conduct anonymous employee surveys to gauge perceptions of the effectiveness of the code of conduct and leadership's commitment to enforcing it.
Resources
For more information about the implications of disruptive behavior and strategies for managing it, see MedPro's Risk Resources: Disruptive Behavior.
Endnotes
---
1 McKenna, J. (2022, August 19). Physicians behaving badly: stress and hardship trigger misconduct. Medscape. Retrieved from www.medscape.com/slideshow/2022-physicians-misbehaving-6015583#1
2 Layne, D. M., Nemeth, L. S., Mueller, M., et al. (2019). Negative behaviours in health care: Prevalence and strategies. Journal of Nursing Management, 27,154–160. https://doi.org/10.1111/jonm.12660
3 Ibid.