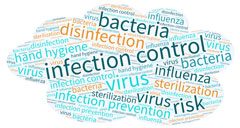 Infections are a serious concern in senior care facilities and a major cause of hospitalization and death. Data show that 1–3 million serious infections occur annually in nursing homes, skilled nursing organizations, and assisted living facilities.1
Because of the danger that infections pose, prevention and control efforts represent an important priority for senior care communities. However, without ongoing education, dedication, and reinforcement, the daily hustle of a busy facility can overwhelm well-intentioned infection control initiatives.
Reviewing the following statements may help senior care leaders and staff determine whether they need to revise their infection control plans or recommit to their efforts.
New staff members (including full-time employees, contractors, temporary staff, and volunteers) receive infection control education.
The facility provides frequent infection control updates and reminders.
The facility supports a culture of safety in which staff members are empowered to remind others about infection control and speak up about potential infection concerns.
The facility has identified individuals to lead infection prevention and control activities and monitoring. Duties, responsibilities, and competencies related to infection prevention and control are included in job descriptions.
The facility has a written infection control plan that includes policies and procedures for infection prevention initiatives, infection control protocols, monitoring, and communication. All staff members in the facility have read and signed off on the plan.
The facility takes corrective action when infection control lapses occur.
The facility has written competencies for infection prevention practices, including staff safety and cleaning, disinfection, and sterilization procedures.
The facility encourages residents and their families to (a) wash their hands, (b) be aware of the facility's infection control efforts, and (c) ask questions — or remind staff members — if they think an appropriate action has not been taken.
The facility's commitment to resident safety requires that each staff member accept personal accountability for infection prevention every day.
The facility's administrative team and infection control leaders stay current on infection prevention and control guidelines and resources to ensure the facility's policies and procedures are up to date and effective.
1 Centers for Disease Control and Prevention. (2015, September). Nursing homes and assisted living (long-term care facilities [LTCFs]). Retrieved from http://www.cdc.gov/longtermcare/