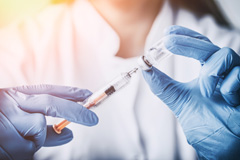 Safe injection practices are a vital component of healthcare organizations' infection prevention and control efforts. According to the Centers for Disease Control and Prevention's (CDC's) One & Only Campaign, lapses in injection safety can put patients at risk for adverse events, including transmission of hepatitis B virus, hepatitis C virus, HIV, fungal infections, and bacterial infections. Additionally, unsafe injection practices increase risk and liability exposure for healthcare organizations and providers.
To protect patient safety and mitigate risk, healthcare organizations should include safe injection practices as part of their infection prevention policies, training, and core competencies for healthcare providers and staff. Examples of these practices include the following recommendations:
Use aseptic technique and safety technology to prevent contaminating injection equipment.
Develop and enforce protocols for hand hygiene, gloving, and the use of personal protective equipment (e.g., the use of face masks during the administration of epidural injections).
Establish standards for environmental cleaning. Require that preparation of medications occurs only in a clean, dedicated medication prep area.
Remove needles/syringes from sterile packaging at the time of use. Do not fill syringes in advance. Open or spike intravenous (IV) bags as close to the time of use as possible.
Limit the use of multi-dose vials and dedicate them to a single patient.
Never administer medications from the same syringe to multiple patients, even if the needle or cannula on the syringe is changed.
Do not reuse a syringe to enter a medication vial/solution.
When possible, use single-dose medication vials, and do not administer medications from a single-dose vial or IV solution bag to more than one patient.
Do not reuse IV administration supplies (e.g., bags, tubes, and connectors) on more than one patient, and properly dispose of these supplies after use.
Do not reuse vacutainer holders.
Follow the CDC's infection control guidelines for assisted blood glucose monitoring and other point-of-care testing.
Appropriately space patient care areas and avoid sharing of IV poles and chair-side tables.
Ensure that potentially contaminated items do not come in contact with other patient care items (e.g., gauze).
Administer immediate-use compounded sterile preparations (CSPs) no later than 1 hour following the start of the CSP preparation per United States Pharmacopeia–National Formulary standards for sterile compounding (USP <797>).
For more information about infection prevention through safe injection practices, visit the CDC's One & Only Campaign website.
Sources