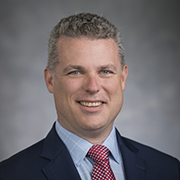 Jean-Paul Rebillard

President – MedPro Specialty
Jean-Paul A. Rebillard has delivered smart, customized solutions to healthcare systems and providers of all types and sizes for more than two decades.
Jean-Paul is President of MedPro Specialty, leading a business which delivers customized insurance, claims and risk management solutions to hospitals, senior care providers, healthcare facilities and healthcare professionals throughout the United States.
Prior to joining MedPro in 2014, Jean-Paul spent more than 14 years at Marsh USA Inc. sharpening his expertise and client focus through a series of increasingly challenging assignments, including leadership roles in Marsh's healthcare practice. While at Marsh he delivered a full range of risk solutions to hospitals and healthcare systems, senior care providers, healthcare facilities, large physician groups, and managed care organizations throughout the United States. His track record of success includes helping create and manage insurance operations, including a doctor insurer in Nevada, a joint underwriting association in Missouri, a hospital risk retention group in Pennsylvania, and numerous captives and other alternative risk vehicles. He also delivered complex risk and insurance services to clients in a variety of industries in addition to healthcare. Jean-Paul's insurance career began at the Pennsylvania Mcare Fund in 1995, following several years in marketing and management consulting.
Jean-Paul holds a BA and MGA from the University of Pennsylvania and lives with his family outside Philadelphia, PA.