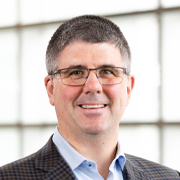 Jim Kunce

Senior Vice President & Chief Actuary
Assessing risk in today's dynamic healthcare environment is a tall order. Ensuring MedPro charges each insured a fair premium based on their own risk profile is paramount to our mission. Jim, in collaboration with the experienced MedPro Actuarial team, are continually striving to apply and refine the latest statistical and predictive modeling techniques so they can create an accurate and fair price for each unique practice or facility.
Jim is responsible for all aspects of MedPro Group's actuarial functions including pricing, ratemaking, reserving and system implementation.
He is a 1994 graduate of the University of Kansas with BS degrees in Physics and Astronomy. He became a Fellow of the Casualty Actuary Society in November 1999 and is a member of the American Academy of Actuaries. Jim began his actuarial career at Kemper Insurance Companies and joined GE Insurance Solutions in 1998. While at GEINS, he earned his Master Black Belt certification in Six Sigma Quality. He joined MedPro Group in 2004.