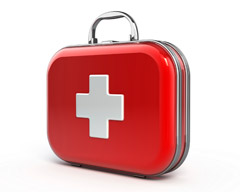 Laura M. Cascella, MA
Preparation is an essential element of emergency preparedness for healthcare practices and facilities. One important aspect of preparing for medical emergencies is procuring and maintaining appropriate equipment and supplies (including medications).
Medical and dental professional organizations and emergency preparedness literature generally recommend that office practices maintain at least basic emergency equipment and supplies.1 Beyond that, the breadth and contents of each office's emergency kit will largely depend on:
The type of practice
The patient population
The procedures/therapies performed
Anticipated emergencies or level of risk
Geographic location
Provider and staff training and skills
State requirements2
Additionally, specialty guidelines can prove helpful in offering information about the necessary supplies and equipment needed to manage specific types of medical emergencies or patient populations.
Perhaps the most important consideration when purchasing or assembling a medical emergency kit is ensuring that office providers and staff members have the knowledge and training to administer the emergency medications and use the emergency equipment. As an article in American Family Physician noted, "For medical and legal reasons, no office should stock equipment that cannot be used safely by office staff."3
Emergency supplies and equipment should be stored in a designated location that is cool, dry, and accessible at all times. Further, emergency kits should be labeled and easy to transport. This will allow staff to quickly transfer equipment and supplies to the person requiring assistance.
An assigned staff member should routinely inventory all emergency medications, check expiration dates, and restock medications as appropriate. Utilizing a checklist or tracking log can facilitate thorough documentation of the results of these inspections.
Likewise, designated staff should routinely inventory and test emergency equipment to verify that it is functioning properly. MedPro Group's Medical Equipment Management guideline recommends testing critical equipment, such as lifesaving and emergency equipment, at least twice a year. Healthcare practices also should maintain equipment logs to document all inspections, testing, preventive maintenance, and repairs for emergency equipment.
For more information, see MedPro Group's article, Managing Medical Emergencies in the Office Practice Setting: A Three-Pronged Approach.
A Note About Automated External Defibrillators
Some professional organizations, such as the American Dental Association and the American Hospital Association, recommend having automated external defibrillators (AEDs) available in healthcare offices — and some states laws mandate having them. Check with your state medical/dental board or association to determine the requirements in the state(s) in which you practice.
Even in states that do not have AED laws, healthcare practices could potentially be sued for wrongful death under common law if a patient dies of sudden cardiac arrest in the office. When thinking about whether to include an AED as part of your practice's emergency equipment, consider the likelihood of a sudden cardiac arrest occurring in your office, the location of your practice (e.g., distance to an emergency department), and the availability of skilled emergency medical services.
1 Rosenberg, M. (2010). Preparing for medical emergencies: The essential drugs and equipment for the dental office. Journal of the American Dental Association, 141(Suppl 1), 14S–19S; ADA Council on Scientific Affairs. (2002, March). Office emergencies and emergency kits. Journal of the American Dental Association, 133, 364–365; Toback, S. L. (2007, June). Medical emergency preparedness in office practice. American Family Physician, 75(11), 1679–1684; Sempowski, I. P. (2002, September). Dealing with office emergencies: Stepwise approach for family medicine. Canadian Family Physician, 48, 1464–1472.
2 Rosenberg, Preparing for medical emergencies; Toback, Medical emergency preparedness.
3 Toback, Medical emergency preparedness.