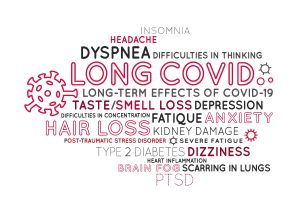 Laura M. Cascella, MA, CPHRM
An unfortunate byproduct of the COVID-19 pandemic is the emergence of post-COVID conditions, which also are referred to as chronic COVID, long-haul COVID, post-acute COVID syndrome, and other terms. The Centers for Disease Control and Prevention (CDC) defines these conditions as a range of new, recurring, or persistent symptoms that people have 4 or more weeks following infection with the SARS-CoV-2 virus.1
Although much about post-COVID conditions is still unknown, below is key information for healthcare providers based on current knowledge:
Symptoms of Post-COVID Conditions
People who have post-COVID conditions commonly experience:
Dyspnea or increased respiratory effort
Fatigue
Post-exertional malaise and/or poor endurance
"Brain fog," or cognitive impairment
Cough
Chest pain
Headache
Palpitations and/or tachycardia
Arthralgia
Myalgia
Paresthesia
Abdominal pain
Diarrhea
Insomnia and other sleep difficulties
Fever
Lightheadedness
Impaired daily function and mobility
Pain
Rash (e.g., urticaria)
Mood changes
Anosmia or dysgeusia
Menstrual cycle irregularities
Symptoms, combinations of symptoms, and length of symptom duration vary among individuals and can affect anyone who had COVID-19, even people who had mild or asymptomatic illness.
Post-COVID conditions can affect people of all ages, although they currently appear more common in adults.
Individuals who had severe COVID-19 might develop autoimmune conditions or multiorgan complications that affect various body systems. Some people, mainly children, develop multisystem inflammatory syndrome (MIS) during or right after a COVID infection. MIS can lead to post-COVID conditions if complications are not resolved or other symptoms persist.
Patients who were hospitalized for COVID-19 might experience effects such as tracheal stenosis, severe weakness, exhaustion, cognitive issues, and post-traumatic stress disorder. If these issues persist for 4 or more weeks, they are considered post-COVID conditions.
The symptoms associated with post-COVID conditions also are common in other conditions. Healthcare providers should establish differential diagnoses and also consider the potential for COVID-19 reinfection.
Some patients who develop symptoms associated with post-COVID conditions may not have tested positive for COVID-19 due to lack of or inadequate testing or other factors.
No laboratory test can definitively diagnose post-COVID conditions; testing should be guided by patient history, physical exam, and clinical findings.
Providers should not rely on laboratory test results and/or imaging findings as the only way to assess a patient's condition. Even if testing does not produce abnormal results, the patient may still have post-COVID symptoms that affect daily functioning.
Primary care providers can likely treat and manage most patients who have post-COVID symptoms. Specialists should be consulted as appropriate based on patients' symptoms and underlying medical and psychiatric conditions.
Healthcare providers should be transparent with patients about the fact that post-COVID conditions are not yet well-understood, and they should offer continued support as information develops.
The CDC recommends a shared decision-making approach to treatment and setting achievable goals that address specific symptoms or conditions. Some patients may benefit from a comprehensive management plan that focuses on improving physical, mental, and social well-being.
Treatment goals and management of post-COVID conditions should be reassessed over time based on new information and patients' progress and challenges.2
Knowledge about post-COVID conditions is still in its infancy and will continue to evolve over time, as will guidance on best practices for diagnoses, treatment, and ongoing care. Healthcare providers who diagnose and treat patients who potentially have post-COVID conditions should be aware of the most up-to-date evidence and remain vigilant about emerging guidance and best practices. For more information, see the CDC's Evaluating and Caring for Patients with Post-COVID Conditions: Interim Guidance.
Endnotes