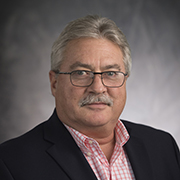 Robert L. Ignasiak

Senior Vice President - Claims Leader
Bob has approximately 26 years of industry experience. He joined MedPro Group in August of 1986, starting as a territory manager in the home office. His company experience includes time as a general agent, a position involving direct sales, underwriting and claims management. In 1992, he helped establish MedPro Group's first and only house counsel law office. He then served as SVP & Regional Director of Claims until assuming the leadership role in 2000.
Prior to joining MedPro Group, Bob managed claims at North American Van Lines. Before that role, he served as a law clerk for the firm of Gallon, Kalniz & Iorio, Co., L.P.A., focusing on plaintiff's worker's compensation litigation.
Bob received his BS Degree from the University of Toledo in Criminal Justice and later received his JD from that same institution.