MedPro's New Educational Microsite Explains Differences In Consent Provisions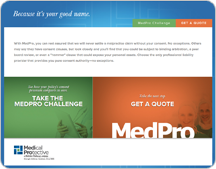 MedPro debuts an educational microsite that outlines why consent provisions in your malpractice policy really do matter. A consent provision spells out whether you have control in settling a malpractice claim. Common exceptions include binding arbitration, a hammer clause, relocation or board approval, among others. Also, language in your policy might indicate that you can be deemed "unreasonable" or "incompetent." All of these exceptions may open the door to force a settlement without your approval and potentially ruin your ability to practice medicine.
Your career is defined by your reputation and good name. MedPro offers you pure consent authority – no exceptions. Learn more about potential consent exceptions that may take control away from you when you need it most. Click here for further explanation.
About Medical Protective
With over $800 million in annual premium, MedPro is a national leader in healthcare malpractice insurance coverage and risk solutions for physicians, dentists, hospitals and healthcare systems, as well as other healthcare facilities and healthcare professionals. As the nation's first provider of healthcare malpractice insurance, MedPro has been protecting the assets and reputations of healthcare providers for more than 110 years. Healthcare malpractice insurance products are underwritten and provided by The Medical Protective Company, Princeton Insurance Company, MedPro RRG – all rated A++ (Superior) by A.M. Best – and other Berkshire Hathaway affiliates, on both admitted and excess and surplus paper, and are distributed through a nationwide network of appointed agents and brokers. MedPro is a Berkshire Hathaway business. More information about MedPro is available at www.medpro.com.