Dr. Graham Billingham Joins Medical Protective as Chief Medical Officer
Highly-qualified Physician, Practice Manager, Insurance Executive & Patient Safety Advocate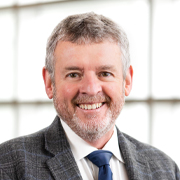 November 4, 2011 – Medical Protective Company (MedPro), a Berkshire Hathaway (NYSE:BRK) subsidiary, today announced the appointment of Dr. Graham Billingham as its Chief Medical Officer, effective January 1, 2012. As Chief Medical Officer, Dr. Billingham will lead MedPro's Healthcare Advisory Boards, support MedPro's clinical underwriting, claims, risk management and sales efforts, and join MedPro's Business Council – the management team that helps oversee the company's strategic direction and ensures continued industry leadership.
"Dr. Billingham is a terrific addition to our MedPro team," commented MedPro President & CEO Tim Kenesey. "After a nationwide search for a Chief Medical Officer, Graham's breadth and depth of experience, and passion for reducing risks and improving outcomes in healthcare delivery were most impressive. He has proven success as a great physician, healthcare practice executive, and insurance executive…and he has a renowned reputation as a national speaker, trusted advisor and leading advocate in the areas of healthcare risk management and patient safety. I have no doubt that our growing portfolio of over 90,000 healthcare providers will benefit from Graham's many talents."
Dr. Billingham is uniquely qualified to be MedPro's Chief Medical Officer: he has twenty-five years of experience as a board certified physician, fourteen years leading a complex and growing physician practice, and seven years as an executive at a medical malpractice insurance company (most recently as President & CEO of EPIC Insurance Company). Dr. Billingham is the Emeritus Chairman of the Emergency Medicine Patient Safety Foundation and has served on the Board of the Emergency Department Practice Management Association (EDPMA), founded and served as medical director for the Center for Emergency Medical Education, was a co-founder of the National Emergency Medicine Board Review Course, and served on the American College of Emergency Physicians Coding and Nomenclature and Medical Legal Committees.
"I am really excited to join the nation's leading insurer of healthcare providers," commented Dr. Billingham. "Healthcare delivery is changing more rapidly than at any time in my twenty-five years as a physician; and MedPro – with over 110 years of leadership, offerings that span the healthcare provider continuum and unmatched strength as part of Berkshire Hathaway – is positioned like no other company to help support healthcare providers through these changes. I am excited to continue my work with healthcare providers coast-to-coast in the pursuit of improving outcomes, lowering risk and delivering solutions."
About Medical Protective
With over $800 million in annual premium, Medical Protective is a national leader in primary healthcare professional liability coverage and risk solutions for physicians, dentists, hospitals, healthcare facilities and other healthcare professionals. As the nation's first provider of healthcare professional liability insurance, Medical Protective has been protecting the assets and reputations of healthcare providers for more than 110 years. Offerings include professional liability insurance on both claims-made and occurrence forms, risk management consulting and education, premium finance solutions and – through affiliates and partners – additional products and services for healthcare providers. Healthcare professional liability insurance products are underwritten and provided by The Medical Protective Company, rated AA+ (Very Strong) by Standard & Poor's and A++ (Superior) by A.M. Best, and its affiliates on both admitted and excess and surplus paper, and are distributed through a nationwide network of employee sales managers, appointed agents and brokers. Medical Protective is a Berkshire Hathaway business. More information about Medical Protective is available at www.medpro.com.