MedPro's Related Products
Feeling overwhelmed by audits and new requirements for handling patient information? Perhaps, you are simply trying to find ways to navigate regulation or decrease errors while managing your practice. MedPro offers additional niche coverage options to fortify your practice.
Billing E & O
Compliance enforcement is here to stay and will only increase over time. MedPro's Billing E&O coverage provides reimbursement for defense costs in association with billing errors. It also covers regulatory fines and penalties levied against you in the event of an audit that indicates violations to the EMTALA, HIPAA and Stark Act.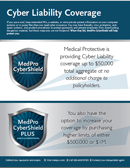 CyberShield PLUS
Using email, networked computers and a website all present the potential for security breaches. Storing and accessing private patient information (in electronic or paper files) leaves you open to liability. MedPro's CyberShield PLUS - offered at higher limits than the basic level included in your policy - provides additional protection and corrective processes to make sure you are covered when technology fails or when patient records are violated.
"We chose Medical Protective because we wanted a bigger company that had been around the block a few times. We wanted more stability than our other carrier could provide. They had too many ups and downs and we were tired of worrying about it. That's why MedPro is a good fit for us."
Group Administrator, Washington