Communication issues, particularly among healthcare providers, are not unusual in malpractice cases; in fact, they are noted in approximately one-third of all cases. Various scenarios across care settings illustrate the importance of thorough communication among providers — yet few highlight it as well as cases occurring in the emergency department (ED), where decisions are made quickly and little time is available to correct miscommunication.
In most EDs, patients are initially triaged by nurses prior to seeing physicians or advanced practice providers (such as nurse practitioners or physician assistants). However, the benefit of triage and having more than one provider evaluate patients might be forfeited if communication breakdowns occur.
Triage problems are not noted as frequently as other issues in the ED; however, when they do occur, the severity of patient injuries is greater (Figure 1) and costs are higher. Triage-related cases primarily involve diagnostic errors and the lost opportunity to treat in a timely manner (Figure 2).
Figure 1. Emergency Department Cases Resulting in High-Severity Injuries

Figure 2. Emergency Department Triage-Related Claims Volume by Allegation Category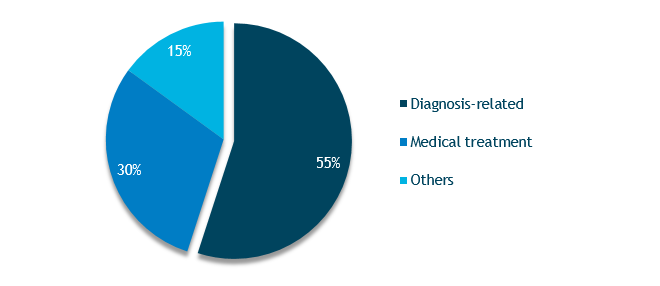 Failure to clearly communicate findings, regardless of how subtle those findings are, is the key risk factor in triage-related cases. The failure to clearly communicate prevents treating clinicians from having a complete understanding of the patient's condition, which can negatively affect treatment. Furthermore, unclear communication can lead to unexplained inconsistencies in clinicians' documentation, making it difficult to defend the care provided. In triage-related cases, both communication and documentation issues occur more frequently than in other types of ED malpractice cases (Figure 3).
Figure 3. Communication and Documentation Risk Factors in Emergency Department Claims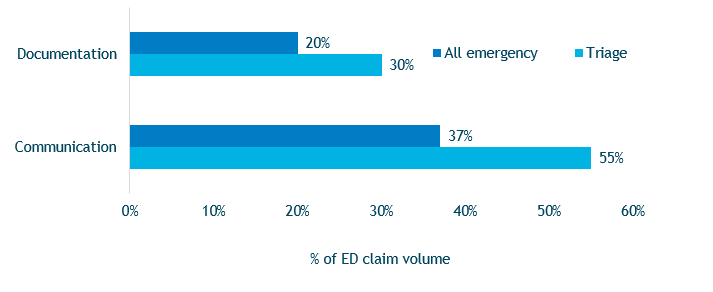 Case Illustration
A female patient in her early teens had seizure-like activity while at school and was transferred to the local ED. Upon arrival, she had recovered, and her blood pressure and ECG results were both normal; thus, the patient was discharged home.
Later that evening, the patient was found with her eyes rolled back and breathing heavily. She was again transferred to the ED, where clinicians observed that she had sudden spastic movement on the left side of her face with left arm movement and lip smacking; she also was increasingly nonresponsive.
The patient was admitted for a neurological workup. The subsequent diagnosis was acidosis, which was likely secondary to the seizure. After treatment, she was discharged home with a prescription for diazepam (as needed).
About 3 months later, the patient presented to the ED again with complaints of headaches for several months. She was diagnosed with lymphadenitis and was discharged with instructions to take ibuprofen and a prescription for co-amoxiclav.
About 10 months later, the patient visited a neurologist with complaints of headaches and pain in the back of her neck. Two soft, round masses were noted, which were diagnosed as sebaceous cysts. She was treated with NSAIDs.
A month later, the patient presented to the ED with a headache and photophobia. While in the ED, she collapsed, vomited, was incontinent of urine, and could not move. She stated that the lumps on her neck were painful and warm to the touch and that she had limited range of motion in her neck. The ED nurse documented left eye deviation, but the ED physician did not document the same — no explanation regarding the inconsistency in observations was noted in the patient's record. Whether the nurse's finding was communicated to the physician is not known.
The patient was discharged after her symptoms improved, and she was instructed to follow up with her neurologist in the next 2 days. At that appointment, the patient was seen by a nurse practitioner who noted that the patient had right eye deviation, headaches, and had recently been unable to move. The neurologist ordered a head CT, but the patient's insurance carrier would not approve the test, which led to a delay in scheduling. Prior to the date of the CT, the patient collapsed and was taken to the ED where a head CT was ordered. The results revealed severe diffuse cerebral edema.
The patient subsequently died. Her family filed a malpractice suit against the hospital and the neurologist, which ultimately was settled in the mid-range.
Key Points
Treating providers (e.g., physicians, nurse practitioners, physician assistants, etc.) should read triage notes carefully before or immediately after seeing patients and discuss any inconsistencies with triage nurses.
All inconsistencies between the triage notes and the notes from the treating provider should be explained in the patient's record.
During long waits in the ED, regular re-evaluation of patients should occur, triage notes should be updated, and triage levels should adjusted as appropriate.
When triage yields significant findings, treating providers and triage nurses should verbally communicate at critical points during the encounter to ensure diagnostic consensus and agreement on the plan of care.
Resources
Data Source
MedPro Group closed claims data, 2007–2016