Laura M. Cascella, MA, CPHRM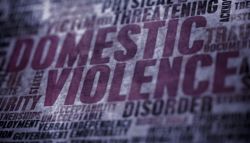 Violence is an undisputable issue in healthcare, and the media is rife with reports of violent acts occurring in various healthcare settings. Often, when thinking about violence in healthcare, stories in which patients or their families are the perpetrators come to mind. In some instances, disgruntled or mentally unstable employees act as the aggressors. Violence prevention programs often focus on these aspects, but sometimes overlook another crucial source of violence — domestic violence (including intimate partner violence).
Domestic violence is a substantial issue in society, and it can affect people of all gender identities, sexual orientations, races, religions, ethnicities, economic backgrounds, and so on. Despite the terminology, domestic violence is not contained within the confines of the home; it can easily move into other areas of life, including work. When domestic violence spills into the workplace, the consequences can range from subtle to catastrophic, and they may result in anything from loss of productivity and absenteeism to loss of life.
Because domestic violence is a common but sometimes under-recognized threat to safety, healthcare organizations should keep this issue in focus as they consider overall violence prevention efforts. Four ways that organizations can address this problem include raising awareness, developing a domestic violence policy, providing education and training, and working with external resources.
Raising Awareness
Domestic violence affects about 10 million people in the United States every year.1 According to the National Coalition Against Domestic Violence, an estimated 1 in 4 women and 1 in 10 men experience sexual violence, physical violence, and/or stalking by an intimate partner during their lifetime.2 Domestic violence also can include threats, emotional/psychological abuse, and economic abuse.
Despite its prevalence in society, domestic violence often is viewed as a taboo topic, which may only serve to reinforce its pervasiveness. Victims might be hesitant to come forward or report threats if they feel embarrassed or ashamed, or they may fear that others will avoid them or dismiss their concerns. By shining a light on this issue, healthcare organizations can raise awareness among staff members, while also preparing them to deal with potential domestic violence scenarios that may affect them directly or indirectly.
Naming the issue and acknowledging its impact is an important first step in reducing stigma and starting conversations that support a culture of physical and psychological safety. Healthcare organizations can raise awareness in various ways and should consider multiple formats or pathways for communicating with employees, such as:
Including information about domestic violence in orientation training, employee handbooks, and safety initiatives.
Distributing information about the organization's violence prevention program and policies to all staff members.
Posting information about domestic violence on the organization's intranet, on bulletin boards, in restrooms, in organizational newsletters, etc. Make sure information is posted "in places where employees can obtain it without having to request it or be seen removing it."3
Providing information about support resources, including employee assistance programs, local domestic violence service providers, domestic violence hotlines, and designated human resources contacts.
Conducting domestic violence awareness activities, including seminars, brown-bag lunches, and other trainings.4
Discussing domestic violence as an unfortunate but serious reality in healthcare can be uncomfortable and difficult. Yet, raising awareness — and sustaining it over time — is imperative for supporting victims and ensuring that employees understand the breadth of the problem and the appropriate steps to take if they suspect a coworker is being abused or if they becomes victims of abuse.
Developing a Domestic Violence Policy
Policies are the bedrock of an organization's culture, and they set clear expectations for conduct and operations. Although many healthcare organizations have violence prevention policies, they may fail to include information related to domestic violence5 — an oversight that could potentially have significant consequences.
Thus, organizations should review their policies to determine whether domestic violence information is included and whether the information is thorough and unambiguous. Key areas for consideration include:
Developing a multidisciplinary team with representatives from various departments (e.g., human resources, communications, medical specialties, security, legal, etc.) to oversee the domestic violence policy and related initiatives.
Working with legal counsel to ensure that the violence prevention policy complies with federal and state laws and guidance in relation to violence prevention, workplace safety, and rights for victims of domestic violence.
Surveying employees on a periodic basis to assess their views on workplace safety and their perspectives on the domestic violence policy. Information gleaned from surveys can help the multidisciplinary team review and update the policy to address any gaps or changes that occur.
Developing guidelines and procedures for situations in which (a) an employee/manager suspects that a staff member is a victim of domestic violence, (b) a staff member discloses to an employee/manager that they are a victim of domestic violence, or (c) the threat of violence or a violent act takes place in the workplace.
Working with legal counsel to determine procedures for handling situations in which employees are accused of perpetrating or assisting in acts of domestic violence. Healthcare organizations should have policies related to investigating these circumstances and following up with corrective/disciplinary action.
Establishing the organization's commitment to keeping information about victims of domestic violence confidential, and clearly delineating the situations in which the organization is compelled to disclose information (e.g., to protect worker safety or to comply with the law).
Determining workplace flexibilities and accommodations to support victims of domestic violence, such as staggered schedules; inconspicuous work areas; phone call screening; removal of personal information from public directories; security escorts to the parking lot; and time off for injuries, moving, court dates, etc.6
As with other types of policies, a domestic violence policy is effective only if employees see that it was developed with purpose, is adopted across the organization, is consistently followed, and aligns with the organization's core values and priorities.
If employees do not feel that physical and psychological safety are a top concern in the facility, they will likely view any domestic violence policy as merely more bureaucracy or empty talk. To avoid this misperception, organizations should take a top-down approach that engages executives, senior leaders, and managers to help build awareness of the policy, advocate for workforce safety, and reinforce the organization's commitment to a zero-tolerance violence philosophy.
Providing Education and Training
A well-educated and trained workforce is an asset for any organization, which is particularly true when it comes to violence prevention. Responding to violence can feel unnatural, uncomfortable, and frightening — but how an individual responds might have a profound effect on the outcome of a situation.
Additionally, education and training are imperative to ensure that employees are aware of the organization's violence prevention plans, including specific guidance for situations involving domestic violence. Even the most well-devised and comprehensive domestic violence policy will be meaningless if staff members don't know it exists or are not well-versed on its guidance.
Employees should receive training on organizational violence prevention policies during orientation and periodically thereafter (e.g., yearly). In addition to policy specifics, other topics and areas of focus for a robust education and training program might include:
The prevalence and types of domestic violence, common signs and symptoms of abuse, and how domestic violence can affect workplace productivity, culture, and safety.
Resources available to victims or perpetrators of domestic violence, including employee assistance programs, hotlines, support groups, counseling services, local domestic violence service providers, etc.
Appropriate methods and contacts for reporting concerns about domestic violence or known threats to the workplace.
Privacy and confidentiality standards related to domestic violence situations, including who receives information and how it is documented.
Appropriate steps for responding to and communicating with victims of domestic violence, including making referrals to experts who are equipped to handle these situations. Employees, managers, and human resources staff should understand their roles and limitations in assisting victims or perpetrators.
Security policies and procedures in place at the organization as well as special accommodations available to safeguard individuals and the workplace.
Victims' rights per legal statutes and organizational policies, including any modified workplace benefits.7
Organizational leaders who develop and oversee staff education and training on domestic violence prevention and response should consider various training formats and activities to keep individuals engaged and aware. Because not everyone learns in the same way, offering a variety of training options in different formats (e.g., tabletop exercises, lectures, and drills) is beneficial for participants.
Working With External Resources
Raising awareness about domestic violence, having policies in place, and offering training and education are important factors in preparing the workforce for potential exposure to this type of violence. However, expecting any individual or group of people at the healthcare organization to be experts in this area is unrealistic — and it may prove dangerous if they feel compelled to act outside of their expertise.8
To address these knowledge and experience gaps, healthcare organizations can forge collaborative relationships and partnerships with groups that do have specialized training and knowledge about domestic violence. For example, organizations can work with local law enforcement to conduct security vulnerability assessments of their facilities and properties and to review violence prevention policies. Additionally, community outreach can help healthcare organizations develop a network of reputable resources that can assist with domestic violence education and assistance for victims.
Having these resources in place can provide employees with a roadmap for navigating domestic violence issues and help alleviate their concerns, fears, and anxiety associated with managing these potentially high-risk situations.
In Summary
Domestic violence is a common and troubling issue in society, and it represents a serious concern for workers and workplace safety. Although discussing and responding to domestic violence can be difficult, healthcare organizations should not turn a blind eye to the problem — particularly because it can have both direct and indirect negative consequences for the organization and its workforce. Rather, by raising awareness of this issue, developing a policy to address it, providing comprehensive education and training, and establishing relationships with experts, healthcare organizations can build trust with their employees, offer vital assistance when needed, and make a good faith effort to safeguard workers from harm.
Endnotes
---
1 Huecker, M. R., King, K. C., Jordan, G.A., & Smock, W. (2022, July 1 [updated]). Domestic violence. StatPearls. Retrieved from www.ncbi.nlm.nih.gov/books/NBK499891/
2 National Coalition Against Domestic Violence. (2020). Domestic violence. Retrieved from https://assets.speakcdn.com/assets/2497/domestic_violence-2020080709350855.pdf?1596811079991
3 Advocacy Center of Tompkins County, Cornell Law School's Gender Justice Clinic, Tompkins County Human Rights Commission, Tompkins County Office of Human Rights. (2016). Domestic violence and the workplace model policy. Retrieved from www.lawschool.cornell.edu/academics/experiential-learning/clinical-program/gender-justice-clinic/domestic-violence-and-the-workplace-model-policy-and-toolkit/
4 Maurer, R. (n.d.). When domestic violence comes to work. Society for Human Resource Management. Retrieved from www.shrm.org/resourcesandtools/hr-topics/risk-management/pages/domestic-violence-workplace-nfl-ray-rice.aspx; Advocacy Center of Tompkins County, Cornell Law School's Gender Justice Clinic, Tompkins County Human Rights Commission, Tompkins County Office of Human Rights, Domestic violence and the workplace model policy.
5 Occupational Safety and Health Administration. (2015, December). Preventing workplace violence: A road map for healthcare facilities. Retrieved from www.osha.gov/sites/default/files/OSHA3827.pdf
6 Maurer, When domestic violence comes to work; Advocacy Center of Tompkins County, Cornell Law School's Gender Justice Clinic, Tompkins County Human Rights Commission, Tompkins County Office of Human Rights, Domestic violence and the workplace model policy; Smith, A. (2018, March 5). HR must act quickly in response to domestic violence allegations. Society for Human Resource Management. Retrieved from www.shrm.org/resourcesandtools/legal-and-compliance/employment-law/pages/alleged-domestic-violence-perpetrators.aspx
7 Maurer, When domestic violence comes to work; Advocacy Center of Tompkins County, Cornell Law School's Gender Justice Clinic, Tompkins County Human Rights Commission, Tompkins County Office of Human Rights, Domestic violence and the workplace model policy.
8 Maurer, When domestic violence comes to work.