Laura M. Cascella, MA, CPHRM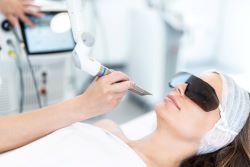 Medical aesthetics is a growing and lucrative industry, and the global medical spa (medi-spa) market is projected to reach $26.72 billion by 2027.1 Various types of healthcare providers are offering spa and cosmetic services at dedicated medi-spas or as ancillary services in healthcare practices. Services are wide-ranging and include botulinum toxin injections, chemical peels, laser hair removal, microdermabrasion, liposuction, dermal fillers, skin rejuvenation, microblading, body contouring, and more.
The appeal of providing spa and cosmetic services can be multifold for healthcare providers. With rising overhead costs, decreased reimbursement, and increased administrative burdens, these services can boost profitability and potentially allow practitioners to spend more time with patients. The addition of spa and cosmetic services also can increase patient satisfaction, particularly for patients who enjoy the convenience of multiple services at one location or who prefer to have their healthcare providers render such services. Additionally, providers may find it fulfilling to learn new techniques and broaden their scopes of practice.
In the context of medical care, introducing spa and cosmetic procedures might seem like a fairly uncomplicated and harmless way to expand business and generate revenue. Yet, providers must always plan carefully and consider potential risks when adding new treatments, procedures, therapies, or products to their practices. Below are 15 risk management tips that can help guide the planning and decision-making processes:
Consult with legal counsel before agreeing to serve as a medical director for a medi-spa or receiving payment for such an arrangement. Noncompliant ownership structure is an area of high risk for medi-spas.2
Contact your professional liability insurance carrier to ensure you have appropriate coverage for spa and cosmetic procedures and to discuss any specific risks associated with the services you plan to offer.
Be knowledgeable about state laws that regulate spa and cosmetic services, including requirements related to ownership structure; licensing; scope of practice for various types of providers (in relation to services and equipment, such as lasers); and supervising, delegating, and overseeing licensed and unlicensed providers.
Determine (a) whether state laws require a formal doctor–patient relationship prior to patients receiving any spa or cosmetic services, and (b) how state laws define that relationship. For example, does a physician need to do a history and physical prior to performing, or delegating the performance of, any spa or cosmetic service?
Ensure compliance with federal fraud and abuse laws and state laws related to paying medi-spa employees commissions (fee-splitting) and kickbacks for products and services.
Make sure products used for spa and cosmetic services — or sold to patients — are approved by the U.S. Food and Drug Administration (when applicable).
Participate in appropriate education and training to understand new treatments and procedures and to ensure competency with technical skills. Education and training are important even if a provider plans to delegate these tasks to other employees. Consider whether training programs offer rigorous education and hands-on experience.
Document all education and training related to spa and cosmetic treatments, including when it took place, what organization offered it, and the format/substance of the courses or programs.
Develop and implement written organizational policies related to medical aesthetic services and informed consent, emergency preparedness (e.g., the need to transfer a patient to the hospital), anesthesia administration, disclosure of unanticipated outcomes, and management of patient complaints.
When adding spa or cosmetic services as an ancillary service to another type of practice (e.g., an internal medicine, gynecology, chiropractic, or dermatology practice), make sure patient appointments are prioritized based on medical needs.
Develop and adhere to patient selection criteria for each type of spa and cosmetic service offered. Criteria should be developed with a focus on maintaining patient safety and should support the clinical decision-making process.
Discuss realistic expectations of outcomes with patients, and engage them in thorough informed consent processes to help manage their expectations, educate them about potential risks, and reduce liability exposure.
Take an ethical decision-making approach when considering adding spa and cosmetic services and/or products. Determine whether these services or products will benefit patients or are merely measures to increase revenue. For more guidance on selling products, see MedPro's article Selling Health Products — Easy Money or Risky Business?
Carefully evaluate marketing and advertising initiatives related to spa and cosmetic services to ensure they do not make unrealistic guarantees, set idealistic expectations, or establish an unattainable standard of care.
Refer patients to appropriate specialists when their cases exceed the scope of practice or training offered within the medi-spa or healthcare practice.3
Careful planning and consideration of risks, awareness about regulatory requirements, and appropriate training and education can help healthcare providers expand their practices to include spa and cosmetic services while maintaining safe and high-quality patient care. For more information, see the American Academy of Aesthetic Medicine, American Association of Aesthetic Medicine and Surgery, and American Med Spa Foundation.
Endnotes
---
1 The Business Research Company. (2023). Medical spa global market report. Retrieved from www.thebusinessresearchcompany.com/report/medical-spa-global-market-report
2 Hilton, L. (2018, October 22). Must-know physician liability issues with med spas. The Aesthetic Guide. Retrieved from www.aestheticchannel.com/legal-compliance/must-know-physician-liability-issues-med-spas
3 Adler, E. (2020, February 7). Medical spas and state laws. Physicians Practice. Retrieved from www.physicianspractice.com/view/medical-spas-and-state-laws; Goldberg, D. J. (2018, November 7). Medical spa owners face increasing liability risks. Dermatology Times. Retrieved from www.dermatologytimes.com/view/medical-spas-face-increasing-liability-risks; Hilton, Must-know physician liability issues with med spas; Raymond, R. (2014, June 5). Adding ancillary services? Here's what you need to know. The DO. Retrieved from https://thedo.osteopathic.org/2014/06/adding-ancillary-services-heres-what-you-need-to-know/; Small, R. (2014, August). Editorial: Cosmetic procedures in family medicine. American Family Physician, 90(3), 136-137; Nair, R., & Bharaj, P. (2018, March 7). Should you add cosmetic procedures to your medical practice? BC Medical Journal. Retrieved from www.bcmj.org/blog/should-you-add-cosmetic-procedures-your-medical-practice