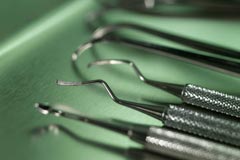 Case Details
A patient who had undergone radiation therapy for cancer of the soft palate presented to his general dentist for routine care. Because of severe xerostomia, the dentist and patient were unable to control the patient's caries.
After multiple attempts to restore the severely compromised teeth, the dentist decided to remove the remaining mandibular teeth and insert a complete lower denture; however, he did not suggest any precautionary measures, such as hyperbaric oxygen, prior to the extractions.
After a series of denture adjustments, the soft tissue on both the right and left mandibular ridges did not heal, and the patient would periodically remove small pieces of bone. The patient returned to the general dentist on at least seven different occasions to complain about the discomfort, bone spicules, a foul odor in his mouth, and episodes of swelling.
After approximately 1 year, the general dentist referred the patient to an oral and maxillofacial surgeon. The surgeon developed a plan of care for the patient that included hyperbaric oxygen treatments and removal of the remaining maxillary teeth, as well as repair of the mandibular defects. During the course of treatment, the oral surgeon noted that the mandible was fractured. External fixation and a bone graft were required to stabilize the fracture.
Discussion
A number of lapses in clinical judgment complicated this case and ultimately led to a malpractice claim against the general dentist. The first was the issue of selecting and managing the patient's therapy. Prior to removal of the mandibular teeth, the dentist did not recommend a hyperbaric oxygen protocol or other precautionary measures, despite the patient's medical history.
Following the procedure, the patient presented on multiple occasions with complaints, but the dentist failed to identify the underlying issue or recommend treatment. Finally, the delay in referring the patient to an oral surgeon was alleged to have contributed to the patient's poor outcome.
A knowledge deficit also may have contributed to this case, as the dentist had limited experience with cases of this level of severity. Additionally, overconfidence or a negative perception about referrals might have been a factor in the dentist choosing to manage the case himself instead of providing an immediate referral to the oral surgeon.